What is a Timing Belt?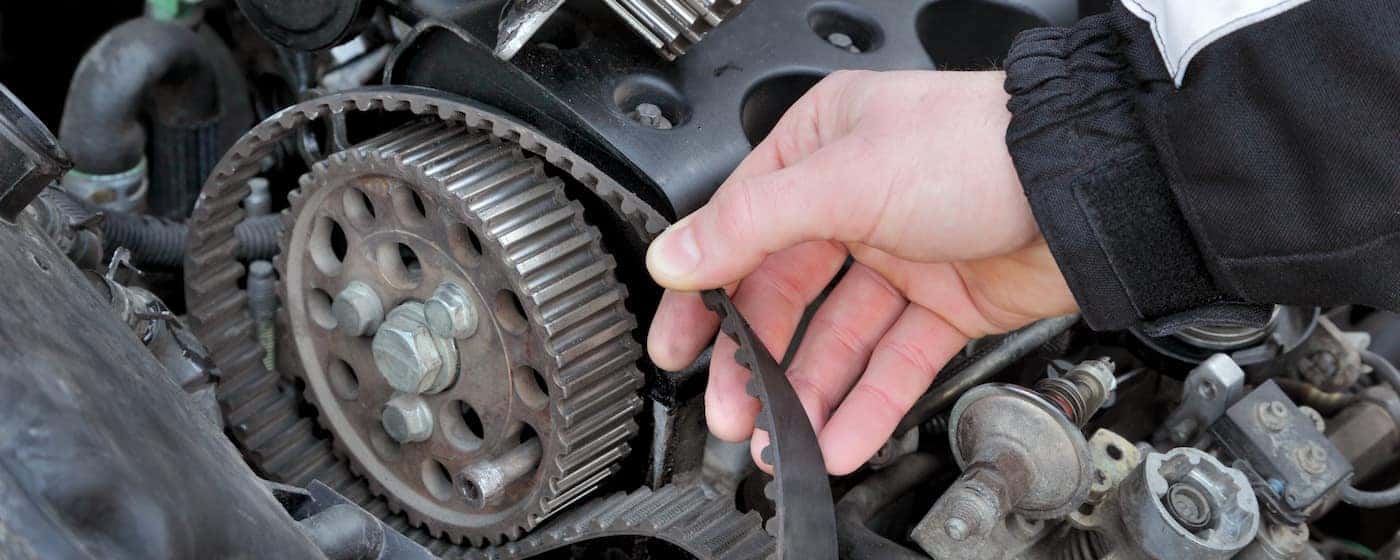 Timing belts, sometimes known as "cambelts," are crucial to keeping a vehicle running! They use the rotational energy of your camshaft to manage valve timing, power your alternator, and sometimes even power a supercharger! From powering your electrical systems, to controlling the gas and airflow into your combustion chambers, timing belts are truly one of the most important parts of your engine. Read on to learn about timing belt cost, and generally help answer, "what is a timing belt, anyway?"
How Much is a Timing Belt?
Whether you have a new car, truck, or SUV, or you've been driving your used model for years, you need to be vigilant about maintaining your car timing belt. While timing belt cost is usually around $500 to $1,000 with parts and labor costs, damage from a broken timing belt can cost anywhere from $1,500-$2,000! Most manufacturers recommend replacing the belt every 60,000 miles to 100,000 miles, so be sure you are well-within your service period when you get your timing belt checked out.
Signs Your Car Needs a New Timing Belt
Whether your car timing belt is made of rubber, or uses a more-complex timing chain, there are clear signs that there is an issue. Schedule a repair ASAP at the SJ Denham Chrysler Jeep Dodge Ram service center near Redbluff if you notice any of these issues:
The engine misfires
More smoke and fumes than normal
Oil leaks from the front of the motor
Ticking noise coming from the engine
The engine won't turn over
The engine has difficulty between 2000 – 4000 RPM
Get More Car Maintenance Tips from SJ Denham Chrysler Jeep Dodge Ram in Mount Shasta!
Now that you know the answer to, "what is a timing belt?" it's time to keep yours in working order with the service team at SJ Denham Chrysler Jeep Dodge Ram! Contact us if you have any questions about how we can help you keep your car, truck, or SUV running in top shape. You're also welcome to visit us near Yreka and Dunsmuir. For genuine MOPAR® parts at great prices, check out our parts specials!
Learn More With SJ Denham Chrysler Jeep Dodge Ram
For top Jeep Wrangler towing power, you should choose a properly-equipped 4-door Unlimited configuration – which puts the max Wrangler towing capacity at 3,500 pounds. When we say "properly equipped," we mean decked out with the Jeep trailering features to help your new Wrangler perform at its best. Beyond that, Mopar accessories and OEM parts…

On the hunt for a budget-friendly ride to suit the needs of your growing Redding family? Perhaps you want a van designed with ample cargo space, advanced safety specs, and entertainment features to keep everyone comfortable. If these specs are at the top of your wishlist, the new Chrysler Pacifica is worthy of the coveted…

One thing is for sure, Redding drivers love the Jeep Gladiator. It's not hard to see why! This Jeep is sporty, rugged, and great to look at. It's the whole package. But not to be overlooked is the powerful little Jeep Gladiator engine. This V6 engine has a ton of horsepower, and an impressive towing…